Seguimos en el mundillo mutante!
El pasado 2 de octubre, Fox estrenó su nueva serie Marvel. Si a principios de año ya entramos en el mundo de X-Men de la mano de Dan Stevens en Legion, ahora entramos en el mundo de la familia Strucker con 'The Gifted'.
Aviso a los navegantes, que las reviews serán con
spoilers
. Así que... si no quieres saber más de la cuenta leyendo, qué tal si te pones al día con la serie? ;)
Parece que lo de los flashbacks molan, así que.. porqué no seguir? Empezamos el episodio para que no nos olvidemos de que Eclipse (Marcos) y Polaris (Lorna) están juntos y hay que idear un plan para sacarla de prisión.
Evidentemente, todos siguen preocupados por aquellos que han perdido, ya sea la propia Polaris/Lorna o Reed Strucker, el padre de los niños. Como en todo gran grupo, diversas opiniones van saliendo a la luz, unos desde el lado diplomático y otros más por el lado de la fuerza.
Pero en realidad, ¿cuál es la mejor manera cuando el exterior te está buscando sea como sea? ¿Irías en busca de tus seres queridos arriesgándolo todo? Pues sí, eso es lo que la familia Strucker, al menos la que está libre, está dispuesta a ello.
Van en busca de ayuda de un familiar (Danny) pero la cosa es tensa, todos los buscan, y ponen en un aprieto a todo aquél al que ven. Todo se vuelve inestable en el momento en que el hijo de Danny comenta a un amigo que la familia Strucker (niños incluidos), están en su casa, así que ya la tenemos liada.
Un grupo de unas veinte personas aparecen con ganas de echar puerta abajo y llevarse a esos "mutantes" que tanto odian y que ponen en "peligro" a la gente. ¿Cómo salir? Por suerte, Thunderbird/Johnny, rastreador nato, consigue junto con Eclipse/Marcos llegar hasta la casa justo antes que el grupo que quiere retenerlos. Es justo aquí donde empieza una persecución, coches incluidos, para salvar el pellejo.
La única manera para despistarlos es que Blink consiga hacer un portal para que el coche de nuestros mutantes preferidos consigan escapar. Aquí es donde entra un nuevo personaje del que aún no nos habían hablado: Dreamer. Dreamer parece que consigue traspasar algún recuerdo a quién ella desee, de modo que la otra persona piense que eso es real. Para ayudar en la persecución, traspasa un recuerdo a Blink sobre ella misma y Johnny para que pueda crear un portal para salvar a aquél que ahora amará.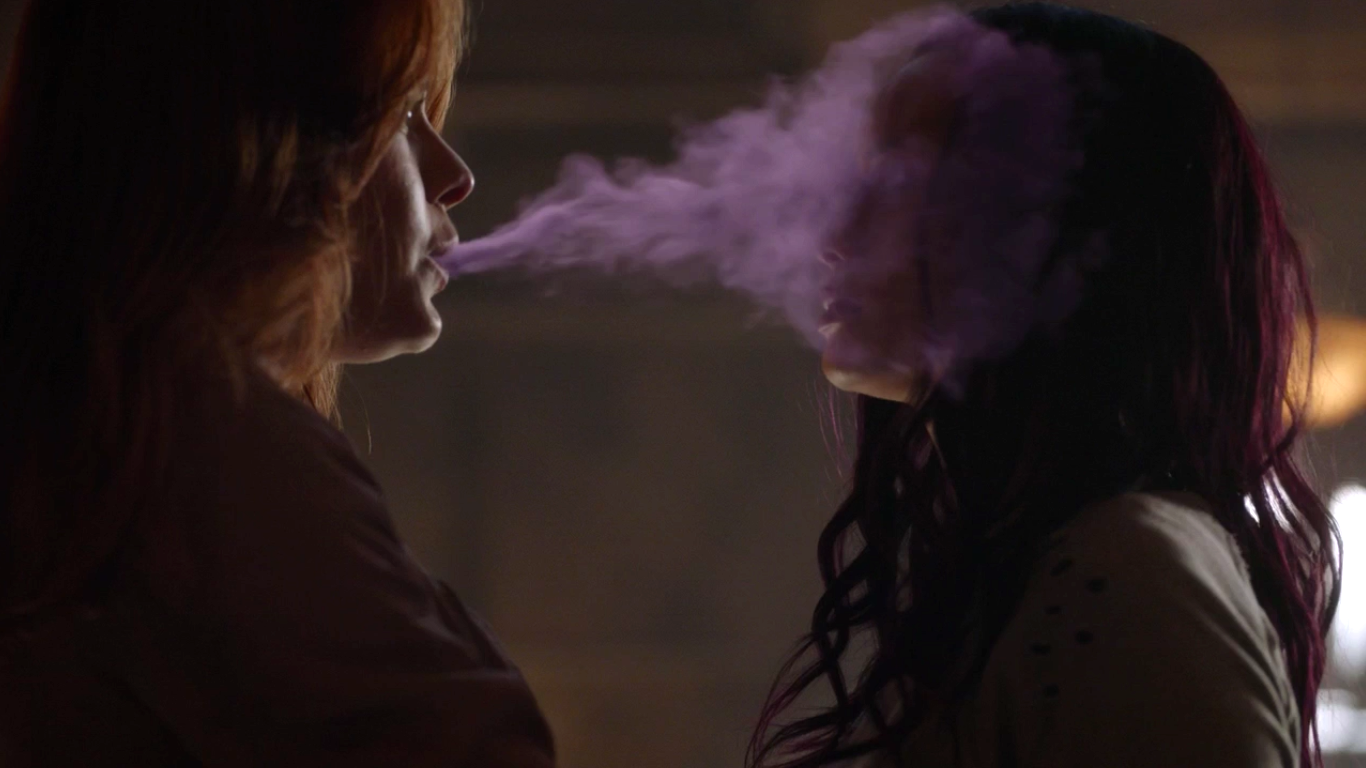 Todo un poco raro, pero vamos, resumiendo. Blink no puede hacer portales porque le falta un recuerdo poderoso al que aferrarse, y Dreamer, aunque de manera falseada, le da ese recuerdo para que pueda conseguirlo. Problema: no sabemos cuánto durará el efecto, pero en el episodio, antes de que el recuerdo sea traspasado hay una conversación un tanto extraña entre Thunderbird/Johnny y Dreamer sobre el asunto... algo en el pasado no surgió nada bien de esta conexión que establece Dreamer con la persona a la que traspasa un recuerdo. Habrá que esperar para ver qué ocurre con Blink y ver si tiene efectos secundarios todo esto.
En definitiva, todos consiguen escapar, y en un último momento Kate Strucker habla con Danny y es este el que le cuenta que Reed, su marido, irá a la cárcel de mutantes... Ellos no saben el porqué, pero nosotros nos lo podemos llegar a imaginar.
Paralelamente a todo lo que ha pasado, hay que recordar que Reed había "hecho un trato" para que sólo fuera él quien llegara a prisión siempre y cuando diera nombres de aquellos que ahora mismo están protegiendo a su propia familia.
No obstante, cuando llega el momento de la verdad, con rastreador incluido, no consigue traicionar a aquellos que él cree que están salvando a su familia, así que rompe el trato y no delata a todo el grupo de mutantes proscritos. Total, que se va a ver las caras con Lorna en la prisión, y creo que esto puede ser un punto muy fuerte para que los dos se unan y consigan escapar, dando pie a que todo el grupo quede unido de nuevo. ¿Se llevarán bien esos dos? Recordad que en el piloto se veían las caras.. y no precisamente en la misma situación: ella estaba encerrada y él era el que la interrogaba... Todo se verá.
Un último apunte... ¿os habéis fijado en la rabia contenida de Andy Strucker? O controla sus poderes y sus sentimientos o me da a mi que va a haber un conflicto muy grande con sus maneras de pensar. Ya sabemos que es un adolescente, pero hay algo medio "oscuro" que no me acaba de gustar.
Clarice Fong / Blink:
Something changed after I got sick. I woke up with this new beauty mark here. And my powers... I don't know... they're broken.