En el séptimo capítulo de Halt and Catch Fire, Joe MacMillan y Cameron Howe continúan luchando por el control de Mutiny. También somos testigos del desenlace de algunas historias y del comienzo de otras. Esta semana pasaremos de un lujoso despacho en la última planta de un gran edificio a la sala de espera de un hospital.
A partir de ahora, Spoiler.
Todavía me sorprende cómo crean nuevas líneas argumentales y, a la vez, construyen los elementos que las destruyen.
Por ejemplo, Gordon y Donna, en este capítulo el ingeniero por fin le cuenta a su esposa su grabe enfermedad. Parecía que la enfermedad uniría al matrimonio pero la infidelidad de Gordon, que pudimos ver en el episodio anterior, terminará provocando el fracaso de su relación, o al menos eso parece.
Otro ejemplo, los guionistas de la serie han fabricado una relación para Cameron y, poco a poco, van montando los mecanismos que la destruirán. Su novio se deja sobornar por Joe, tarde o temprano Cameron se enterará de lo ocurrido y terminará con su nuevo compañero sentimental.
Por un lado, admiro esa facilidad para hacer y deshacer historias pero, por otro, creo que podría hacerse de forma menos evidente.
Aunque debo decir que en cada episodio los fracasos y los éxitos se suceden constantemente, tal vez nos sorprendan llevándonos por un camino para luego ofrecernos un desenlace inesperado.
Puedo poner otro ejemplo al respecto, en el episodio de esta semana Joe MacMillan intenta sobornar, con diferentes argumentos, al entorno de Cameron para que la presionen y venda su empresa de juegos en línea. Pero, cuando parecía que lo había conseguido, él mismo le aconseja a la dueña de Mutiny que no venda.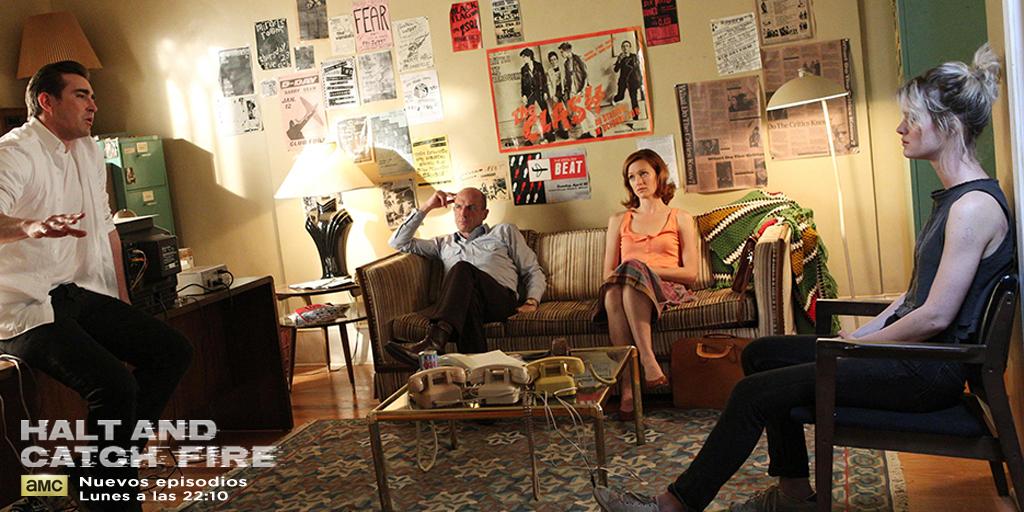 Nunca pensé que mi afición al Arte Contemporáneo y, en concreto, al Expresionismo Abstracto, tuviera nada que ver con la televisión. Gracias a Halt and Catch Fire he encontrado un nexo de unión entre ambas aficiones, el arte y las series de televisión.
De forma velada aparecen varios cuadros, muy representativos de este movimiento pictórico, en las escenas que se desarrollan en el despacho del futuro suegro de Joe Macmilan. Tres obras de Jackson Pollock, Robert Motherwell y Mark Rothko forman parte de la "decoración" del despacho para hacer ostentación de su elevado poderío económico, dado el incalculable valor de dichas obras, más que por ser un verdadero aficionado al arte.
Gracias a museos como el de la
Universidad de Navarra
(
@Museo_unav
)
,
no hace falta ser un poderoso magnate de las finanzas para disfrutar con obras como esta, s
in título, de 1969, de uno de los principales referentes del
Expresionismo Abstracto, Mark Rothko.