La sexta entrega de
Halt and Catch Fire
es una auténtica partida de ajedrez entre
Joe MacMillan
y
Cameron Howe
, aunque en algunos momentos del duelo parece que sea algo más.
Un apasionante capítulo, de esos que quieres volver a ver.
¡Atención!

a partir de ahora, Spoiler.
En el episodio de la semana anterior parecía que Mutiny iniciaba una milagrosa recuperación. Pero esta semana MacMillan, representando a West Group, se presenta en la casa de la dueña de Mutiny con cambios significativos en el acuerdo inicial. A partir de ese instante comienza una apasionante partida de póquer empresarial. Cada una de las partes jugará sus cartas para conseguir el mejor acuerdo posible para sus intereses. El fantasma de su antigua relación añade aún más interés a un guión con constantes giros argumentales. He disfrutado mucho con el intercambio de golpes de efecto entre los protagonistas.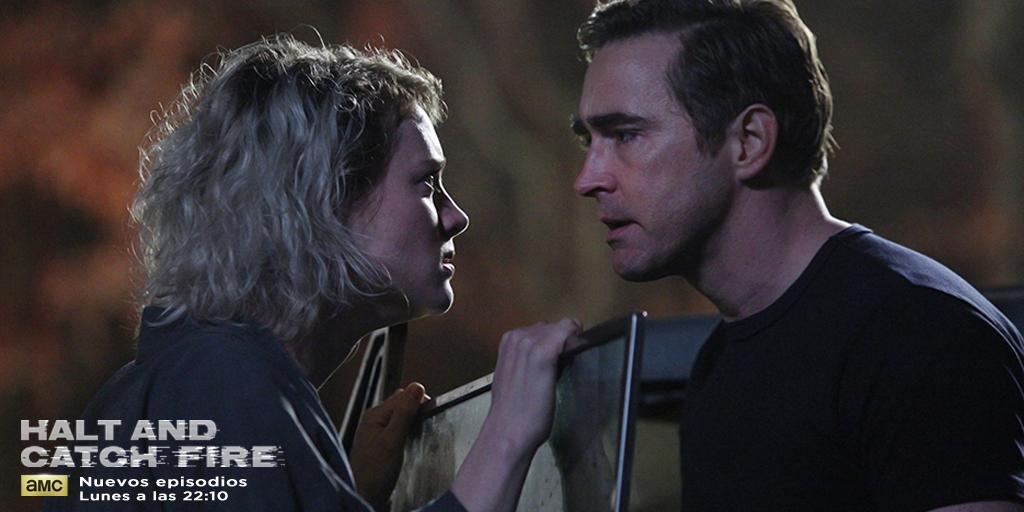 Por otro lado,
Gordon
y
Donna
, continúan sus dramas personales.
El matrimonio se aleja de de la trama principal para ofrecernos su lado más humano
. Somos testigos de los grandes errores que comenten, cada uno por su lado.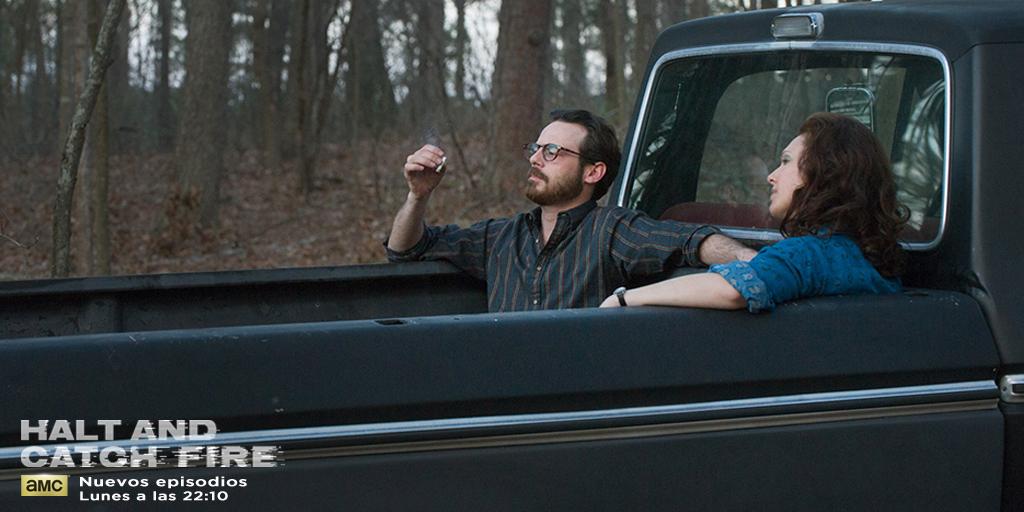 He escuchado muchos tecnicismos esta semana, cosa que me ha entusiasmado. Joe pone una serie de condiciones para firmar el acuerdo, tiene varios objetivos estratégicos que considera imprescindibles, el principal es que los ordenadores de Mutiny adopten el sistema operativo "Unix". Una de las principales características de este sistema operativo es que puede ser usado en máquinas con distintas arquitecturas.
Unix fue algo más que un sistema operativo, usaba un código corto, simple y claro una filosofía que a influido en proyectos posteriores. Cameron crea un simulador que emula las funciones del Unix, ya que en Mutiny utilizan los estándares del Comodore 64.
Uno de estos sistemas operativos que simulan
Unix
es el famoso
Linux
, vigente hoy en día.

Esta semana el eco de la review de Halt and Catch Fire ha llegado muy lejos. El pasado 1 de julio la propia AMC SPAIN (
@
amctv_es
)
,
canal que emite la serie, retwitteó la review del episodio anterior: "Review
#HaltAndCatchFire
2x05 - "Extract and Defend" por
@Dioni_Gonzalezz
" añadiendo un enlace a la página de Los lunes Seriéfilos (
@

LunesSeriefilos

)
donde es publicada cada semana.
Espero conocer a más seguidores de la serie gracias a este retwitt y a muchos otros.
Aprovecho la ocasión para recomendar la web de AMC ( http://www.amctv.es/series/halt-and-catch-fire ). En ella podemos encontrar un interesante contenido "extra". Vídeos relacionados con la serie, entrevistas con algunos de sus protagonistas y fichas de los actores. Además
encontrarás fotografías de cada episodio.
Un interesante contenido.