Review Game Of Thrones 6x04 - Book of the Stranger
Vuelvo una semana más con la nueva review de Juego de Tronos! :) Y aprovecho un momentito para com...

http://www.loslunesseriefilos.com/2016/05/review-game-of-thrones-6x04-book-of.html
Vuelvo una semana más con la nueva review de Juego de Tronos! :) Y aprovecho un momentito para comentaros que también escribo sobre
Person of Interest
, por si os interesara ;)
Por si hay algún despistado, os dejo con la review del 6x03 - Oathbreaker, o por si simplemente, queréis hacer repaso de lo que ocurrió.
Y por último... me disculpo de antemano, esta semana ya llego tarde con la review, y es que ser estudiante universitaria es lo que tiene en mayo. Entregas, exámenes y poco tiempo para escribir! ¡Sed pacientes!
Os recuerdo que estudio en la ciudad de Girona, una de las localizaciones de este año para la nueva temporada de Juego de Tronos y que os la nombraré si consigo ver alguna de sus calles sin que haya pasado demasiada post-producción! Con esto ya.. empezamos la review, y aviso a los aventureros a que será

CON SPOILERS

, por si las moscas ;)
Estamos casi casi en la mitad de temporada.. el tiempo pasa volando! Y también lo hace para nuestros protagonistas. Os acordáis que desde la primera temporada no hay manera de que dos Stark se reencuentren? Ya no vamos a tener que esperar más. Yo creía que Jon en el anterior episodio ya se había ido del Castillo Negro, pero para mi sorpresa, y seguro que el de muchos más, aún seguía allí justo cuando Sansa, Brienne y Podrick entran por la puerta (momento lagrimita).
¿Lo malo? Se acabaron las posibles vacaciones de Jon. ¿Lo bueno? Que esto va a traer chicha... Después de un breve momento de felicidad (que a mi
me huele a chamusquina
, no creo que tarde mucho en torcerse), resulta que Sansa se nos ha vuelto peleona y quiere que su medio-hermano recupere Invernalia, aunque él no quiere.
Y hablando de reencuentros... Resulta que el desaparecido hijo (odioso) de la hermana de Catelyn reaparece junto con Petyr Baelish, el pajarito liante. Liante porque el señor hace lo que le viene en gana siempre y casi siempre lo consigue... Ahora resulta que insta al joven Arryn a ayudar a su prima Sansa para recuperar Invernalia. Así que

esto huele a guerra

, aunque veremos qué quiere Baelish, siempre un paso por delante del resto.
Volvemos a Meereen con Tyrion al mando intentando gobernar una tierra que no le pertenece y sin demasiados que le respalden. Si Daenerys quería abolir la esclavitud, aquí llega Tyrion para ofrecer lujuria a los amos a cambio del acuerdo de eliminar por completo la esclavitud de Meereen en, agarraos, 7 años. Punto para el Lannister... o no?
Y hablado de Daenerys, recobramos el aliento junto con Lorah y Daario en busca de su reina. Una vez encontrado el templo donde creen que encontraran a su reina, se adentran en la ciudad sagrada para salvarla, pero como veréis más adelante, una Khalessi no necesita que la salven, o al menos no la Madre de dragones.
¿Os acordáis de Margaery Tyrell? Pues no, no la van a soltar, al menos no por ahora. Después de un, casi interminable, discurso del Gorrión hacia ella sobre lo que está bien, lo que no y lo que es vanidoso o no, sólo sirve para dejar que ella pueda ver a su hermano Loras, también atrapado. Un discursito hermana-hermano sobre superación y lucha y volvemos a su marido y a otro discurso, el de su madre, el de Cersei.
Una madre que hace todo lo posible por su hijo, aún teniendo que ayudar a Margaery, la que todos coincidiremos, que no le cae bien. Básicamente un plan en el que Jaime también está inmiscuido, igual que Olenna y la mano del rey.
Y seguimos con los reencuentros... esta vez un poco amargos, entre Theon y su hermana Asha, quien aspira al Trono de sal de las Islas del Hierro. Ahora que él está allí, ¿habrá problemas con el puesto de rey?
Vamos a Invernalia, y eso significa volver con el gran hijo de... Ramsay vaya. Que para variar, nos deleita con otra de sus muertes porqué sí, porqué se aburre y punto. Porque ya me diréis a mí qué sentido tiene matar con sus propias manos a Osha? Vale que la chica intenta sacar un cuchillo, pero vamos hombre, con la reputación que tiene el señorito Bolton, quién no lo iba a sacar? Me da demasiada pena que mi querida Natalia Tena salga así de la serie.. pero bueno, es Juego de Tronos no? Si no mueres, no eres nadie ;)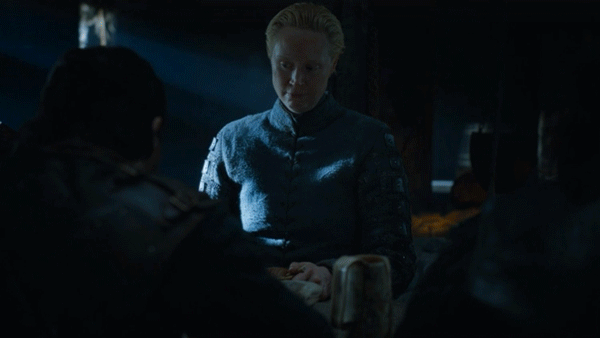 Después de eso, vemos un posible "romance" entre Brienne y Tormund en el Castillo Negro y una cartita del señor hijo de... Ramsay. Casi declarándole la guerra a Jon, mencionando por supuesto que tiene bajo su custodia a Rickon y pidiendo a Sansa a cambio, de una manera no muy caballerosa la verdad. Así que después de otro discursito de Sansa a Jon, que finalmente acepta, esto me huele a guerra o no?

Se va a liar, se va a liar...
Y por último, la escenita que está causando furor esta semana, esta vez protagonizada por nuestra Daenerys. Sé que hay mucho
hater
hacia ella.. pero qué queréis que os diga, la chica se lo curra! En vez de aceptar a que cualquier dothraki haga lo que quiera con ella, se impone y nos suelta un:
Sois hombres insignificantes. Ninguno de vosotros está capacitado para dirigir a los dothraki. Pero yo sí.
Y tan ancha, con música de fondo a lo Lost y con planos muy tipo película de serie B, hace arder la tienda en la que están todos y cada uno de los dothraki más importantes, y ale, ya tenemos de nuevo a La que no arde (cosa que no llegaba desde la primera temporada). Eso sí, no se queda ahí la cosa, Emilia Clarke (Daenerys) ha protagonizado el desnudo de la temporada, no creo que nadie se olvide de esta escena!
Lo dicho, que la chica se lo curra... no sé como lo hace pero se encandila a cualquier grupito de esclavos o de lo que sea. Si ya tenía poca gente en su ejército, se acaba de adjudicar a los dothraki.
Así que... hasta la semana que viene! =)
(Espero no tardar tanto como esta..)