Review The Walking Dead 6x13- "The Same Boat"
Una semana más… ¡hola amigos de los zombies! Volvemos con una entrega nueva de The Wa...

http://www.loslunesseriefilos.com/2016/03/review-walking-dead-6x13-same-boat.html
Una semana más… ¡hola amigos de los zombies! Volvemos con una entrega nueva de The Walking Dead, con el capítulo más flojo de esta mitad de temporada pero que nos deja ciertos detalles interesantes de algunos personajes y un toque feminista que no está de más. ¡Quédate conmigo para analizar el capítulo con más profundidad!
(A partir de aquí, SPOILERS)
El episodio parte de la premisa del secuestro de Maggie (Lauren Cohan) y Carol (Melissa McBride) a manos de los secuaces de Negan (Jeffrey Dean Morgan), algo que se podría haber evitado si el disparo de esta última a uno de los secuestradores le hubiera dado en la cabeza y no en el brazo… y en ese momento nos preguntamos ¿falta de práctica o duda existencial? Pregunta con una respuesta muy clara y prolongada a lo largo de todo el capítulo (lo iremos analizando). Las rehenes son llevadas a un lugar plagado de zombies y poco higiénico mientras una pelirroja con muy mala leche y líder de la operación intenta negociar con Rick (Andrew Lincoln) la manera de solucionar el problema. Y en este punto tengo que hacer un inciso muy interesante, si a alguno de vosotros os resultó familiar la sala en la que se encuentran Carol y Maggie, ¡no es para menos! La serie ha rendido homenaje a la primera entrega de la saga "Saw", en esta foto podéis observar que se trata de la misma habitación donde se encuentran los protagonistas de la película e incluso, con el mismo posicionamiento de los personajes. Yo tengo que reconocer que no me percaté del detalle (¡a la próxima será!).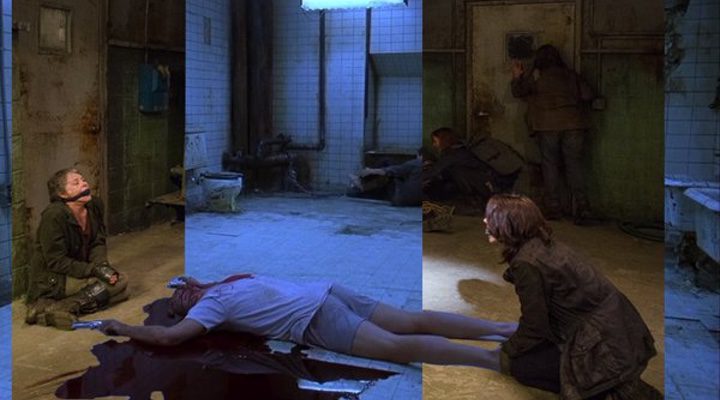 A partir de aquí todo el capítulo se centra en el
desarrollo emocional de los personajes
, y su evolución hasta ese punto de la historia. Empecemos con Maggie. Esta temporada la hemos visto algo pasiva, encargándose de los asuntos más políticos y manteniéndose al margen de las situaciones demasiado peligrosas a causa de su embarazo. Sin embargo, en este episodio
debía pasar a la acción si querían salir con vida
. Y es que sea por la nueva vida en su interior o por el tiempo que lleva luchando, Maggie quiere creer que hay un sentido para vivir,
algo más allá que la impulsa a seguir hacia delante
, idea con la que Paula (Alicia Witt) (nuestra pelirroja malhumorada) no comulga muy bien. Hacia el final del capítulo la vemos más agresiva que nunca,
matando y luchando como hacía tiempo que no actuaba
, porque esta situación le ha hecho cambiar de esta manera, ella debe vivir por dos. Sinceramente, temía por la vida del bebé, Maggie recibe un corte superficial en el abdomen en una de las peleas, aunque no creo que sea motivo para dramatizar por ahora, aun así, también aguanta una patada muy fea a la misma altura, sin duda, querían hacernos
temblar con la idea macabra de un posible aborto.
Sin embargo, el plato emocional más fuerte del capítulo lo protagoniza Carol, en un vaivén de emociones que a todos nos resultó cuanto menos, chocante. En un primer momento, la mujer de hierro se desmorona con un ataque de ansiedad inesperado. Mi reacción no fue otra que de incredulidad, creo que mi cara atónita iba en paralelo a la de Maggie (todos éramos Maggie en ese momento). ¿Teatro o realidad? Yo me decantaba más por la primera, a ver, seamos sinceros…todos conocemos a Carol, ¿estrategia para parecer débil e indefensa? ¿Os suena? Y sí, la situación no era muy favorable para ellas, pero sin duda, no era una reacción propia de Carol, que agarrada a un rosario de uno de los cadáveres del lugar, parecía haber perdido la cordura de repente. Y es que según ella, estaba preocupada por el bebé de Maggie, esto hizo que mi mente recopilara la relación de Carol con los niños, y en verdad, tiene razones para entrar en pánico, es como si fuera una gafe de infantes en potencia, niño que mira, niño que acaba walking dead.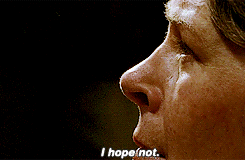 Todo ello hace que Paula se encuentre en un terreno cómodo para creerse superior a su secuestrada, y ambas
inician la conversación más interesante de todo el capítulo
, un duelo de dos mujeres muy iguales en puntos emocionales diferentes. La pelirroja intenta dar una lección de vida a Carol sin saber que ésta ha pasado por unas experiencias vitales parecidas, me recordaba a una Carol pasada, el
"todo vale para sobrevivir
", mientras que esta vez nuestra protagonista se mostraba con la conciencia más perturbada;
"tú eres la que tiene miedo a morir"
le dice a su versión pasada. De hecho hay un dato clave, Paula comenta que a partir de que sus asesinatos llegaran a los dos dígitos, empezó la frialdad y la insensibilidad en ella, cuestión que no vemos en Carol, puesto que es justo ahora cuando la notamos
más sufridora que nunca con este tema
, en sus dos dígitos fúnebres. Finalmente, observando a Carol tan atormentada, en un derroche de chulería Paula le pregunta
"¿tú vas a matarme?"
,
"espero que no"
contesta la madre de Alexandria.
En un momento dado, Carol consigue escapar, volviendo tener la entereza de siempre… aquí es donde realmente confirmas que su faceta de actriz no tiene precio (¿o también posee la capacidad de cambiar de estado anímico en un segundo? No me extrañaría). Tanto Maggie como ella consiguen "deshacerse" de sus secuestradores, en un punto clave para Carol, que por primera vez, y en unos segundos eternos,
vemos como duda de matar a su enemiga
. Ahí es donde nos damos cuenta de que realmente todo ha sido muy ambiguo, puede que Carol estuviera
interpretando un papel en cierta medida
, pero en realidad
sí estaba atormentada
, no por miedo a morir, si no por pánico a seguir matando, a continuar convirtiéndose en alguien que ya no se gusta a sí misma. Finalmente le da una muerte bastante fea a Paula, términos medios los justos. Pero aquí no acaba la masacre, porque de camino vienen refuerzos que habían sido alertados de primeras por la líder pelirroja, por lo que vemos que
la red de Negan se extiende más de lo que en un principio se había calculado
. Cuando éstos llegan, el plan ya estaba trazado, como ratones hacia su trampa mortal, entran en una sala donde Maggie y Carol
los queman vivos con un poco de gasolina y un cigarrillo
, todo muy
badass
. La gracia del asunto es que al cerrar las puertas de dicha sala, en un letrero rezara las palabras
"kill floor"
, la cuestión es no perder el sentido del humor cuando recreas un asador humano.
¿Resumen de todo esto? Ellas dos solas consiguen matar a casi una docena de personas, ironías de la vida, Carol no quería seguir asesinando y por evitar la muerte de aquel tipo, se ha llevado a unos cuantos más por delante. Esto nos hace plantearnos que esa exaltación de nuestros protagonistas y sus habilidades para masacrar, no es más que una estrategia de la serie para dejarnos en una falsa tranquilidad de que los personajes son todopoderosos, hasta que lleguemos al final y alguna tragedia (entiéndase, muerte o muertes) nos caiga como un jarro (o varios) de agua fría. Finalmente Rick y compañía llegan al lugar en cuestión, cuando toda la faena ya está hecha (lástima Rick, hoy no te toca mancharte las manos), Glenn (Steven Yeun) corre haca su mujer, que está exhausta, al igual que Carol, consolada por un tierno Daryl (Norman Reedus). Todo ello adornado con una música instrumental muy sentida como viene siendo la norma últimamente.
El grupo traía consigo al superviviente de la carnicería del capítulo anterior, Rick le hace algunas preguntas para intentar sacar información, pero esta gente no para de repetir un mensaje un tanto confuso "todos somos Negan", ¿qué quieren decir exactamente? ¿Es una forma de proteger a su líder? Y sí, cuando pensaba que Rick en este capítulo no iba a volver a matar (¡¡¡otra vez!!!), resulta que sí, que es el encargado de asesinar al ya inservible humano (¡cómo no!). La mirada de Carol está ida totalmente, mientras aplasta su Fe en un puño. ¿Todas estas dudas son señales de su posible muerte? ¿Justo cuando empieza a tener conciencia y mostrar su debilidad es cuando puede llegarle su fin? Está claro que ninguno está a salvo de la soga.
Redondeando, es un capítulo interesante en cuanto a conceptos emocionales, sólo que tengo la sensación de que es algo que llevan repitiendo hace varios capítulos y ese énfasis por dejarlo más claro es a veces innecesario. Por otro lado, Negan sigue sin aparecer, lo que afianza aún más la idea de que mostrará su cara hacia el final definitivo de temporada con una acción impactante que deje un fuerte sabor de boca como entrada a la séptima entrega. Os dejo unas declaraciones de Steven Yeun sobre lo que se avecina, que no es poco.
"Hemos estado esperando por esta persona (Negan) durante mucho tiempo, y en los cómics, tiene una historia con un nivel inigualable. Así que, para mí, la llegada de Negan es jodidamente increíble."
"Negan mata a Glenn en los cómics, pero les puedo asegurar que no hacemos lo mismo que los cómics. Hay una clara diferencia en como contamos la historia en televisión y en como la historia es contada en los cómics, porque es como tiene que ser. Todo el mundo quiere ver qué pasa, pero definitivamente contamos la historia de la manera que tiene que ser contada en televisión".
(¿Intentando despistar? Pronto lo sabremos)