Review The Walking Dead 6x12- "Not Tomorrow Yet"
Una vez más regresamos con The Walking Dead , en un nuevo capítulo cargado de acción, muert...

http://www.loslunesseriefilos.com/2016/03/review-walking-dead-6x12-not-tomorrow.html
Una vez más regresamos con The Walking Dead, en un nuevo capítulo cargado de acción, muertes, sangre, dilemas morales y ¡hasta un cameo! Episodio completito donde los haya que hace que a cuatro capítulos del final de temporada, la tensión reine en el ambiente, porque sí amigos, la tormenta se avecina y tiene nombre propio: ¡Negan! (Jeffrey Dean Morgan).
(A partir de aquí, SPOILERS)
El capítulo comienza con un optimismo palpable, una vida cotidiana feliz, protagonizada por el personaje que menos esperaríamos encontrar en esa situación, nuestra querida Carol (Melissa McBride), algo ausente en los últimos capítulos y que ya echábamos de menos. Sorprende verla, al ritmo de "Weeds or Wild Flowers" (Parsonfield), como una ama de casa de libro, acomodada en sus labores, matando algún que otro zombie y haciendo galletas para todo el mundo. Una estampa que me hacía recordar sus momentos más "badass", y es que es increíble lo camaleónica que puede llegar a ser dependiendo del contexto en el que se encuentre. Pero esta vez es diferente, o al menos, eso te dejan entrever, ya que inicia un viaje de dudas y dilemas no antes visto tan claramente en este personaje. Por un lado decide guardar silencio sobre la decisión de Morgan (Lennie James) de mantener vivo a uno de los asesinos que los masacraron, algo que sabemos nuestra Carol habría contado a Rick (Andrew Lincoln) de inmediato. ¿Está comenzando a plantearse su estilo de vida? ¿Ha interpretado tan bien el papel de "Madre de Alexandria" que se lo está empezando a creer? Mis sentidos arácnidos me dicen que sí, que en cierto modo admira el espíritu inquebrantable de Morgan, que todo ello hace que se plantee sus acciones pasadas y futuras, y desde luego, van dejando pistas durante todo el capítulo. Por una lado vemos una misteriosa libreta donde Carol apunta números y letras que no llegamos a entender del todo bien pero que indican que pueda llevar un contador de las muertes cometidas por sus propias manos, algo que le provoca insomnio, lo cual nos lleva a la segunda parte de la historia y lo más chocante para mí, ¡el romance! Lo tengo que admitir, es algo que no veía venir, y creo que ella tampoco, quizás las horas sin dormir le hayan nublado el juicio o realmente necesite ese calor humano por fin, la cuestión es que se acaba besando (y seguro que algo más) con un hombrecillo de Alexandria (de cuyo nombre no me acuerdo) al que le regala galletas. Muy dulce todo. Todas estas dudas y contradicciones la llevan a actuar de una manera diferente y paradójicamente, su final de capítulo no es tan optimista como el comienzo, pero aún no hemos llegado ahí, ¡la dejaremos descansar por el momento!
Pero llega el momento clave del asunto, Rick, muy demócrata él, somete a votación el acuerdo realizado por Maggie (Lauren Cohan) en el capítulo anterior, al que todos votan a favor exceptuando Morgan (¡sorpresa!). Y es que en otras circunstancias habría estado de acuerdo con él, dialogar antes de atacar y demás formalidades para evitar la matanza, pero se trata de Negan, señores, sabemos que él no negociaría, y aunque ellos aún no lo saben, puestos a ir a la guerra, tener la ventaja del movimiento inesperado te da un plus. Aun así, no pude evitar sentir cierta compasión por Morgan, quiere intentar salvar las almas del grupo para que los demonios no les atormenten, y es chocante ver cómo la gente habla de asesinar a otros humanos tan alegremente, mientras la voz de Morgan intenta ser la conciencia de todos y el lado más humano que ahora mismo tiene la serie. Todo ello inicia un plan que tiene como baza a uno de los hombres de Hilltop, que posee ligera idea de cómo es la estructura del edificio donde se encuentran Negan y sus hombres. ¡Y ya está! El ataque está planeado, el derramamiento de sangre es un hecho. Y es aquí donde el inesperado cameo, que ya sabía de antemano y me hizo verlo más claro, tiene su justificación. Necesitan llevar la cabeza de Gregory (Xander Berkeley) para poder engañar a los guardias del lugar y entretenerlos, para lo que preparan tres cabezas zombies que podrían dar el pego. ¿Reconocéis el rostro de alguien muy famoso en una de ellas?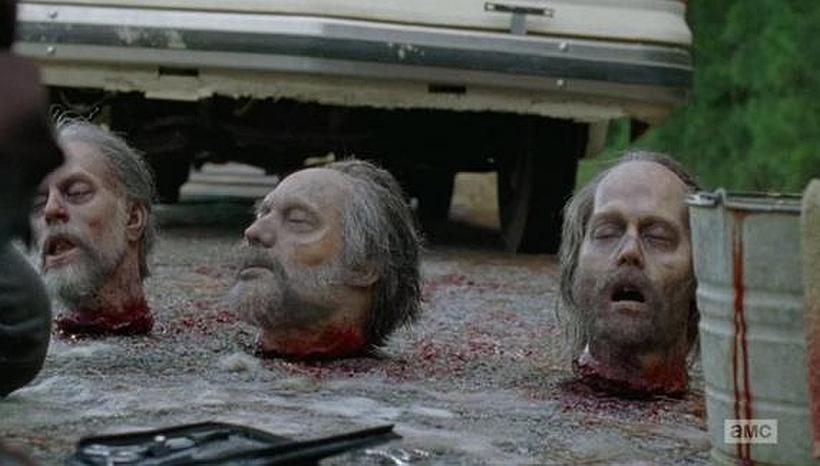 ¡Sí! No es otro que Jhonny Depp, Greg Nicotero (encargado de los efectos especiales) y que también tiene su cameo en esta escena, utilizó un molde del actor para conseguir el logrado parecido:

"Una de las otras cabezas, no sé si me meteré en problemas al decir esto, era Johnny Depp. Creo que esculpimos una versión esquelética de la cabeza de un maniquí para algo y utilizamos la cabeza de Johnny Depp como base para esculpir arcilla. No recuerdo quien es el tercero, pero estoy en buena compañía"

. Bueno, está claro que a Rick no le hizo mucha gracia este asunto.
Toda esta escapada ofrece la excusa perfecta para que nuestros protagonistas desarrollen aún más sus relaciones personales antes de la partida. Vemos a Denise (Merritt Wever) y Tara (Alanna Masterson) en un momento muy íntimo, afianzando aún más su relación. Ésta última dice las palabras mágicas "te quiero" a lo que la otra responde, rompiendo el momento, que ella le dará la réplica cuando regresen. Más tarde, con el padre Gabriel (Seth Gilliam) como confesor (¿a estas alturas alguien lo sigue tomando en serio como cura?), Tara reconoce haberlo dicho para no confesar que ya había matado antes, aunque en realidad, fue sincera con sus sentimientos. Pero para sinceridad y machacante, la de Abraham (Michael Cudlitz), que de todas las maneras posibles para dejar a Rosita (Christian Serratos), elige la más hiriente y rastrera, porque sí, lo de sentarse a hablar las cosas con calma está sobrevalorado. Es algo que veía venir desde el capítulo anterior y más aún, aunque la pobre Rosita se lo encontró de frente y sin previo aviso. Me llamó la atención la ausencia de Carl (Chandler Riggs) en el episodio, dadas tantas despedidas, supuse que Rick haría lo propio con su familia. Lazos y más lazos emocionales en la recta final de temporada, avisados estáis, la tragedia se palpa en el ambiente.
Y la invasión por fin comienza, de manera calmada al principio, la pandilla asesina secuencialmente a cada hombre dormido que va encontrando en las habitaciones. Como era de esperar, a Rick ya no le tiembla el pulso, pero Glenn (Steven Yeun), para el que este momento es su primera vez, lo pasa realmente mal. Por fin se decide y mata su primera vida humana desde que la aventura comenzó, ¿será un mal presagio? ¿Se lo devolverá el karma? Sufro, sufro mucho por Glenn, y más aún cuando al acabar el trabajo, dirige la mirada a un estupendo mural de fotos de ¿gente? con la cabeza destrozada… ¿será su destino final? Desde luego, no hay capítulo en el que Glenn no esté sentenciado implícitamente, esperemos un giro sorprendente al final de temporada (o no). Y ¿dónde está Carol en toda esta situación? Pues sí, finalmente decide quedarse "cuidando" de Maggie mientras aseguran el perímetro de la zona, y yo me pregunto… ¿hasta qué punto es por Maggie y no por ella misma? ¿Quizá no tendría tantas ganas de matar ese día? En un momento dado, uno de los asaltados consigue llegar a activar la alarma del edifico, y aquí sí que se inaugura el festival de carne, sangre y armas de fuego por doquier. Los que no querían matar se cargan a media docena como mínimo y los que ya iban seguro de ello, más de lo mismo. Balas por aquí y cadáveres por allá, consiguen dejar el lugar limpio de vida humana, y muy sucio en general. Alguna se pregunta ingenua quién sería Negan entre toda aquella masacre, pero ¡eh!, la sorpresa se la comerán enterita. Un superviviente tiene la gran idea de intentar huir con la desaparecida (y robada) moto de Daryl (Norman Reedus), y obviamente el intento se queda en eso, porque el primero en echarle mano es por supuesto, el dueño de la tan adorada máquina. Y es aquí donde todo cobra un nuevo sentido para ellos, a través de la radio, una mujer está hablando, las noticias no son buenas; Maggie y Carol están retenidas como rehenes. ¡La guerra acaba de comenzar!
En resumen, un capítulo y en general, una segunda mitad de temporada muy interesante, con muchos ingredientes diferentes e interacciones nuevas, que nos dejan las expectativas muy altas de cara a los episodios que quedan por emitir y que espero que sepan cubrir como hasta ahora y mucho más. Parece ser que Negan no sólo dará para esta sexta temporada, si no que seguramente sea el villano de la que, ya confirmada, será la séptima entrega de la serie.