Review Halt and Catch Fire 2x04 - 'Play With Friends'
Esta semana viene muy completa la review de Halt and Catch Fire . Comentaré lo sucedido en el...

http://www.loslunesseriefilos.com/2015/06/review-halt-and-catch-fire-2x04.html

Esta semana viene muy completa la review de Halt and Catch Fire. Comentaré lo sucedido en el cuarto capítulo, daré una pequeña clase práctica sobre los Superordenadores y mandaremos un saludo a uno de los actores de la serie.



A partir de ahora, Spoiler.



La acción se desarrolla en Mutiny, la empresa de juegos online de Cameron. En el episodio anterior vivimos una catástrofe, los usuarios cancelaban sus suscripciones y la empresa se quedaba sin clientes.

Al inicio del episodio de esta semana las cosas no han cambiado mucho. Los desencuentros entre la dueña de la empresa y Donna aumentan, su amistad parece que lleva el mismo camino que Mutiny. Pero, cuando parecía todo perdido, se abren nuevas líneas argumentales encaminadas a reflotar la empresa. Los protagonistas van aportando soluciones, cada uno por diferentes motivaciones personales. Gordon para intentar reconciliarse con su esposa, tras haber provocado el descalabro de Mutiny, y Joe para buscar reconocimiento consiguiendo grandes beneficios en un departamento satélite de la empresa petrolífera de su futuro suegro. Por otro lado, Cameron tiene una idea genial para un nuevo juego en red.

Me está entusiasmando el modo en el que van trabajando las tramas, desde que comenzó la segunda temporada, para conseguir que los protagonistas hagan cosas que no deberían hacer y para obtener giros argumentales que van a dar mucho juego.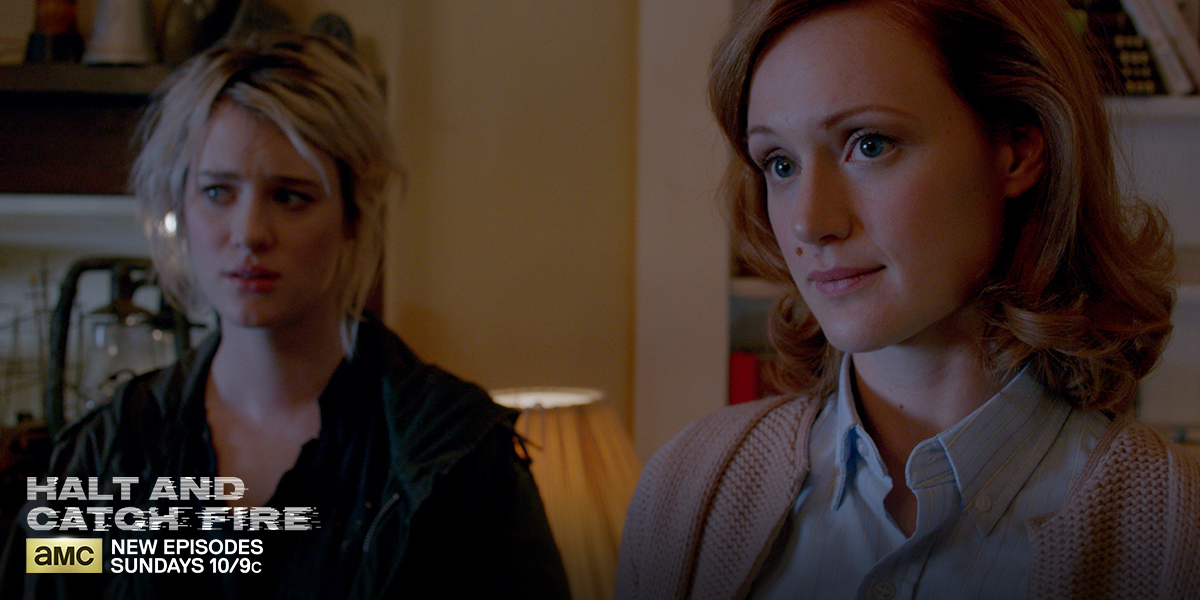 Ahora hablaré del IBM 3090, el supercomputador que Joe va a utilizar clandestinamente. La empresa petrolífera lo utiliza para el análisis estadístico. Los Mainframes o supercomputadores realizaban complejos cálculos en poco tiempo y eran capaces de comunicarse con varios terminales a la vez con un método llamado: "Tiempo compartido". Esta última es la característica que quiere explotar el ambicioso ejecutivo. El computador va asignando pequeños intervalos de tiempo a cada usuario y lo hace tan rápido que no hay retardos en los terminales. Joe quiere alquilar un espacio en la memoria ampliada del computador, una unidad de almacenamiento adicional que está aislada de la memoria central, para que Mutiny, y otras empresas, puedan alojar sus programas. El computador podrá atenderlos a todos, a tiempo compartido, sin que el departamento de estadística de la empresa note ningún retardo, ya que el poderoso Mainframe está infrautilizado.
Por eso Joe necesita a Gordon, el ingeniero tiene que instalar y configurar un acceso externo para que se pueda entrar al supercomputador desde el exterior.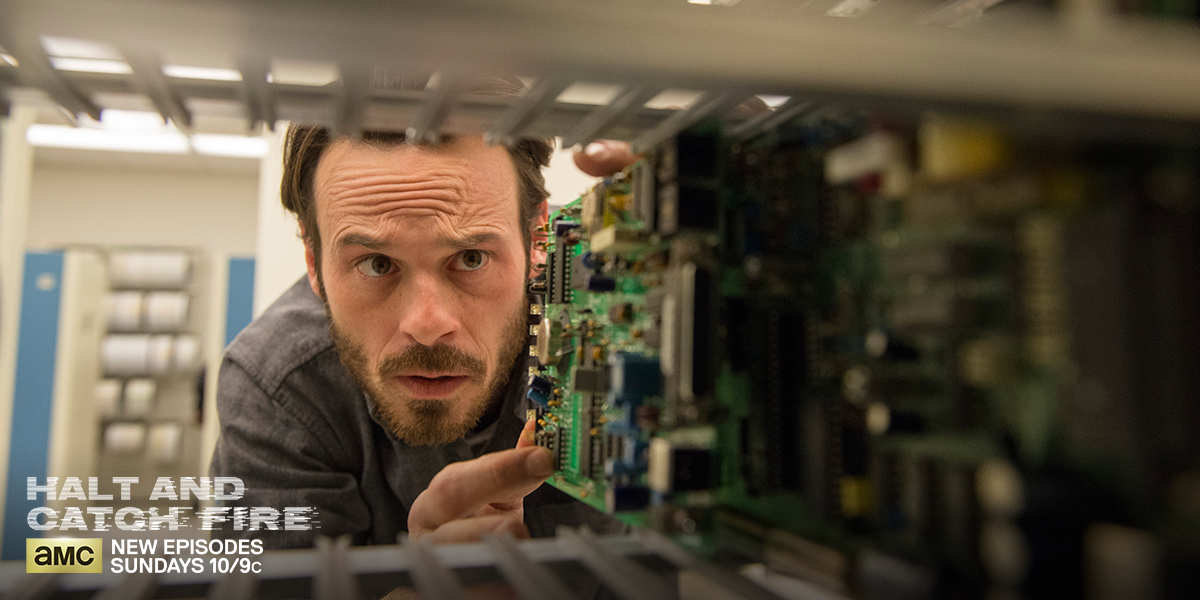 Por otro lado quería mandar un saludo a Joshua Hoover (@Flavahoove) que el pasado 18 de junio nos mandó un tuit desde Los Angeles (California): "@LunesSeriefilos @Dioni_Gonzalezz Thanks for watching!! #HaltAndCatchFire".
Joshua interpreta a uno de los programadores que trabajan en Mutiny y protagoniza uno de los momentos más divertidos del capítulo al aparecer en calzoncillos y camiseta de tirantes en la fotografía de grupo que se hacen los trabajadores de la peculiar empresa de juegos en línea.